Over the past month we've assembled some great UX related posts. January's roundup was a hit so we figured we'd do it again!
February's Best of UX Booth
Here are the top three posts in terms of traffic from the month of February: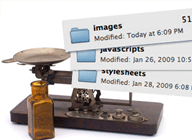 This article explores in depth what causes slow load times, and how a website or blog can be minimized for a faster overall user experience.
This post examines 11 quick ways to ensure your website offers content in a usable way, and includes some suggested reading for digging deeper into writing more usable content.
We've rounded up some great folks on Twitter that are well versed in UX. If you're a user of the Twitter community, these are some names you should be following.
Did we miss any?
Did you read something in the month of January we missed? Feel free to drop it in our comments! Also, if you found a resource you loved in particular let us know.
During my years in an agency, I've seen the spectrum of tool experimentation. I've heard passionate user experience designers argue in favor (and equally as often, against) Axure, Balsamiq, UXPin, Invision, Photoshop, you name it. We've tried it. Usually, the outcome is something out of Goldilocks and the Three Bears: the tool is too robust, or too simplistic, too slow, or too buggy, and no one's happy.